The new Sony ICD-TX660 digital voice recorder, according to Sony, provides high-quality audio recordings with a one-push option. The Sony ICD-TX660 voice recorder has an OLED display and 16GB of internal memory, which the company claims can store up to 5,000 different files.
To provide more precise recording features, the ICD-TX660 comes with a new high-performance digital microphone. The newly installed high-performance digital microphone effectively minimizes ambient background noise, allowing you to record your voice with greater clarity while keeping microphone sensitivity. When surrounding noise makes it difficult to hear your voice clearly, the 'Auto Voice Recording' function adjusts the microphone sensitivity, optimizes the pickup frequency, and eliminates noise in all bands, allowing for clearer voice recording.

The gadget features Auto Voice Recording that is said to eliminate background noise. The Sony voice recorder has a battery life of up to 12 hours and supports a variety of playback formats.
The Sony ICD-TX660 comes with a travel case and a USB cord in the box. The digital voice recorder is only 29 grams and measures 102.0×20.0x7.4mm.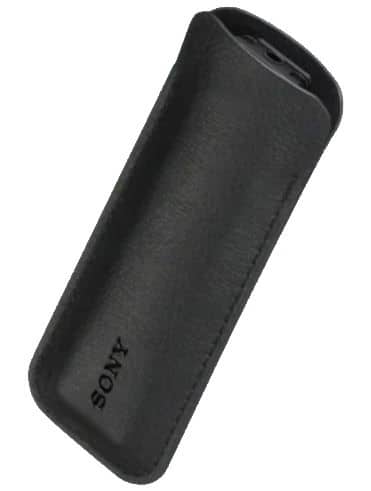 Sony ICD-TX660 Voice Recorder Specs:
The Sony ICD-TX660 has a built-in microphone and an OLED display. It has a 16GB internal storage capacity. The Sony ICD-TX660 voice recorder can save up to 5,000 files or record for up to 636 hours at a time, according to Sony. It is compatible with PC and supports MP3, AAC, WMA, and WAV formats.
Noise-cut filter, scene choice, digital pitch adjustment, quick search, a-b repeat, and track mark are all included in the Sony ICD-TX660. It's powered by a lithium-ion battery and has USB Type-C connectivity. When recording 16-bit Linear PCM audio at 44.1KHz, the battery is said to last up to 12 hours.

The digital voice recorder has capabilities such as time jump playback for long-range skipping, one-push recording (which starts recording even if the device is turned off), and Auto Voice Recording (which reduces background noise). The device contains an LED light that allows users to check the recording status.