A Google account gives you access to all of Google's services, including Gmail, YouTube, Drive, and others. But what if you've had your fill and want to leave? Is it possible to permanently delete a Google account? Yes, you absolutely can, and it only takes a few minutes.
Before you rush through the steps, keep in mind that you'll be losing a lot of data if you go this route. Google deactivates accounts after 180 days, so you could simply leave the account inactive. Of course, we're not trying to persuade you otherwise. Perhaps you have a secondary account that you no longer use, or you have another reason to kill it. It's simple to delete your Google account permanently, and we'll show you how.
Checklist before Deleting Your Google Account
If you delete your Google account, you will lose access to data on a variety of websites. Here are a few of the more significant losses:
Gmail, Drive, Calendar, and other Google services, as well as any data associated with these accounts, such as emails, photos, and notes.
Purchased subscriptions or content from YouTube or Google Play Movies, Books, or Music.
Chrome-saved data, including access to any free or paid Chrome apps and extensions.
If you use an Android smartphone, you will also lose access to any contacts associated with this account, as well as any data backed up with Android Backup services.
Before you delete your Google account, there are a few things you should do.
If you've had your Google account for a while, you've most likely saved some important data, such as emails, notes, and photos. You can download it individually if there isn't much, but Google offers a simple way to backup all of your data.

Go to accounts.google.com to access your Google account settings.
Using the menu on the left, navigate to Data & Privacy.
Scroll all the way down to Download or delete your data.
Choose Download your data.
A complete list of Google services associated with your account can be found here. You can pick and choose which information to download. By default, everything is chosen for you.
You have the option of receiving a download link via email or saving it to a cloud service such as Drive, OneDrive, Box, or Dropbox. You can also specify the export frequency, file type, and maximum size of the compressed archive.
Depending on the amount of data being archived, the entire process could take some time.
Also, keep in mind that your Gmail address may be linked to other services, such as bank accounts or websites. Before deleting the Gmail account information, make sure you keep track of these accounts and update the information as needed.
Other things to consider and address before deleting your Google account include:
Consider using Google's security checkup if your account has been compromised.
If you simply want to delete a Google account from your phone, follow these steps.
If you have an account through your workplace, school, or another group, contact your administrator to request that it be deleted.
Delete your Google Account entirely

Scroll down to More Options after selecting Data & Privacy.
Tap the Delete your Google account button. You will be required to sign in.
There are two acknowledgments at the bottom of the page that you must accept before you can tap the Delete Account button to permanently delete your Google account.
Delete your Google account-specific services

Scroll down to Download or delete your data under Data & privacy.
Tap the Delete a Google service button.
You'll see a list of Google services associated with your account that can be deactivated. Simply click the trash icon next to the ones you want to get rid of.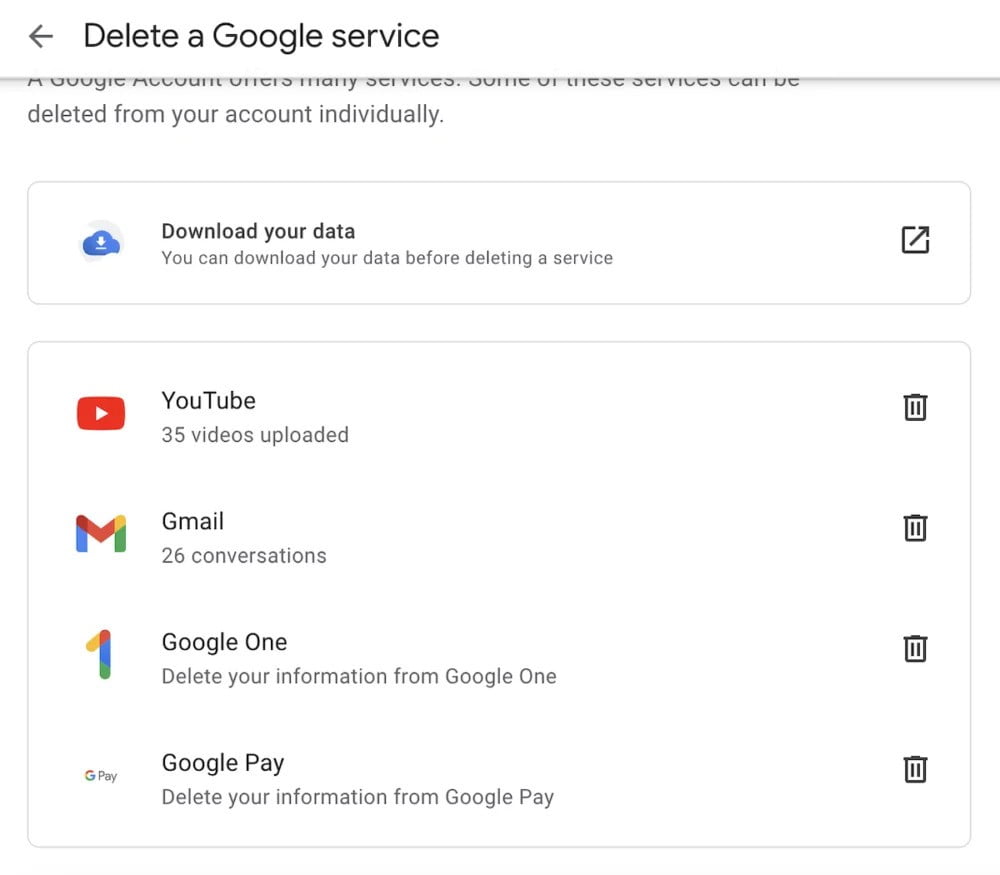 How to recover Google Account
If you've deleted your Google account and want it back, you have a limited time to do so.
Navigate to the Account Recover page.
Select I'm also having trouble signing in.
To see if you can recover the account, follow the instructions on the page. However, it is possible that it will not be possible.